UVP GelSolo
Streamlines gel-documentation with live view; all exposure time, zoom and aperture settings are displayed in real-time on the 11.6 inch screen. Saturation monitoring allows for easy capture of fully quantifiable images. The UVP GelSolo system includes a light-sensitive monochrome camera with a high resolution of 5 megapixels. A highly sensitive zoom lens allows for high-contrast image acquisition. The system is controlled by a touch screen with the intuitive VisionWorks image acquisition and analysis software.

All-in-one design for streamlined gel documentation
High resolution 5.0 MP camera
Lens is easily accessible for adjustment of aperture, zoom and focus
Three-position filter tray with Ethidium Bromide filter; additional filters are available
Epi-white and epi-blue LED lights enable a variety of gel imaging applications
Large 11.6" touch screen with user-friendly software optimizes image capture and analysis
Easy access data storage for saving images on the USB drive, to the system or network computer
Unique viewing window allows UV-safe viewing of gels without opening the door
Wide front door; safety switch turns the UV light off when the door is open
Side access doors for gel repositioning and cutting while viewing the gel on the screen
Compact design maximizes laboratory bench space
Choice of Transilluminator ‒ single, dual or triple wavelength UV Transilluminator models, and blue light models
Software UVP GelSolo
Integrated VisionWorks Software with Touch Screen Simplicity
The system is controlled by a touch screen with intuitive image acquisition and analysis software.
Intuitive Software with easy access to capture controls:
The VisionWorks software on the UVP GelSolo is a powerful yet intuitive software for capturing gel images and analyzing them. The simple user interface enables easy access to auto and manual image capture modes under the Device tab. Exposure time can be adjusted with customizable exposure settings. Captured images are saved in TIFF or JPEG formats.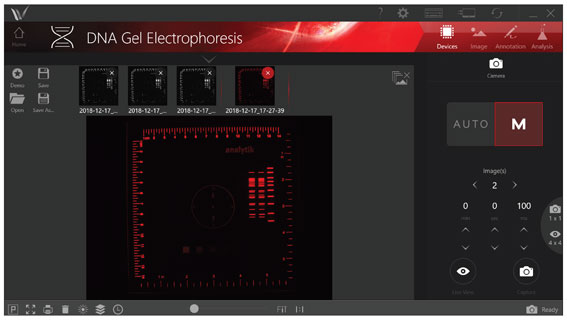 Camera/Lens
GelCam 315, 5.0 MP, with 8-48mm
f/1.2 manual zoom lens
Darkroom features

11.6" large articulating touch screen
Wide front door with UV safety switch
Gel viewer window
Epi white and epi blue LEDs
Side access doors
USB ports
3-position emission filter tray

Accessories

Ethidium bromide filter
Choice of UV transilluminator
Filter sizes: 20 x 20cm, 21 x 26cm or 25 x 26cm;
Wavelength: 1UV 302nm, 2UV 302/365nm or 3UV 254/302/365nm, 230V/50Hz,
or blue light transilluminator

Dimensions (H x W x D)
80,5 x 39,4 x 38,4 cm
Please fill in at least the fields with a red asterisk.